The Best White Sports Bras of 2022 - A Buyer's Guide
When we choose a sports bra, firstly we consider what kinds of exercise we go for, like running, jumping exercise and boxing, we will choose a matching high-intensity sports underwear, in addition, we will also take into account the color and style of the sports bra, for example, someone will choose a bright color to highlight their shaped body and personality. For choosing a white sports bra, many girls will consider that they can be used for both purposes that a white sports bra with certain support for low-intensity sports, also used for daily leisure.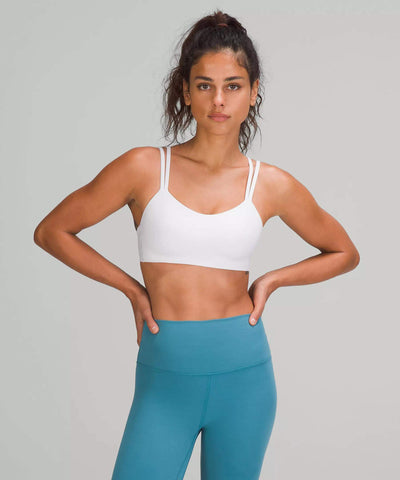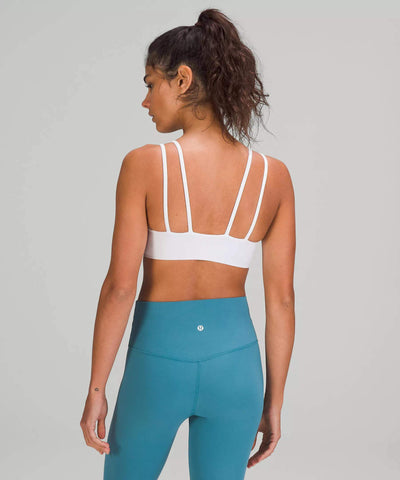 Lululemon white sports bra is super soft, breathable, flexible, and truly feels like you aren't wearing anything. There is a soft cup-like form to the bra with minimal padding so you can wear it as a lifestyle bra under just about anything. A fantastic bra is used for light workouts without worrying about the straps falling, and I love the built-in cups.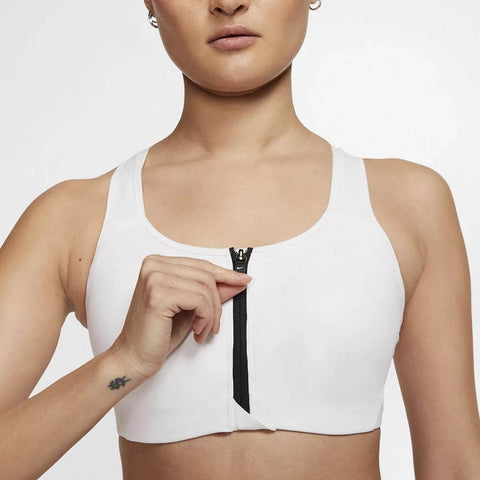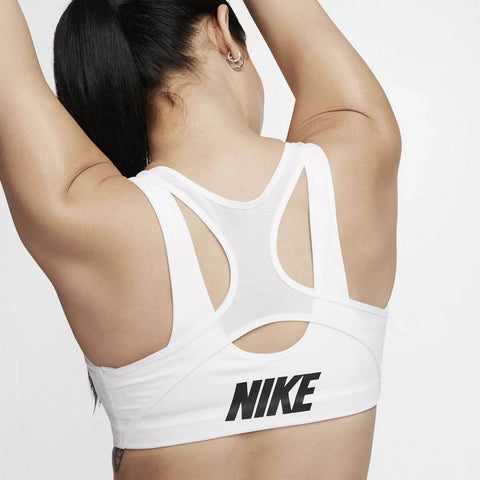 It is one of those high-impact bras that more pushes you up and together rather than just hold you in where you are. It is a bit tricky to put on because you have to bring the two sides together and hold it in place while joining the zipper together at the bottom and hook the little clasp in the middle, but once it's on and adjusted it is snug, super supportive but also surprisingly comfortable and flattering! It held everything in place during my HIIT workout, it is quite snug, and I love the tightness for my workouts! 
It is a plus-size bra brand for large breast women, compared with Nike Dri-FIT Shape zipper sports bra, Shefit white sports bra provides 8 kinds of sizes, and the pads are removable, I like the idea of being able to swim in this bra. It's very comfortable with seamed cups and Two-Way Stretch Fabric, this item will save you from fears of high-intensity exercise like running or HIIT, making you want to be more active. You can feel confident in your workouts.
I don't think this will fit a sports bra for large breasts because I am sure of how supportive it is. 
For a small chest woman, it is super comfortable with a soft material yet maintains some support during your workouts. It is not possible to be able to run but is perfect for doing weightlifting and wearing them for everyday tasks. It is also very flattering.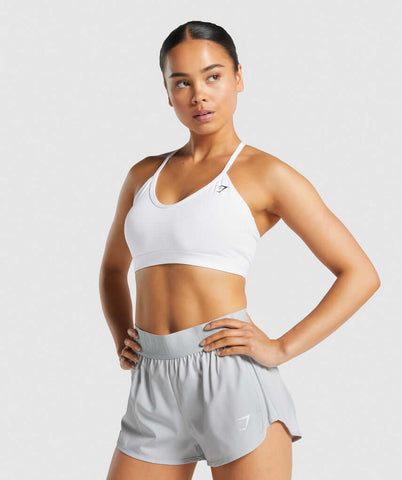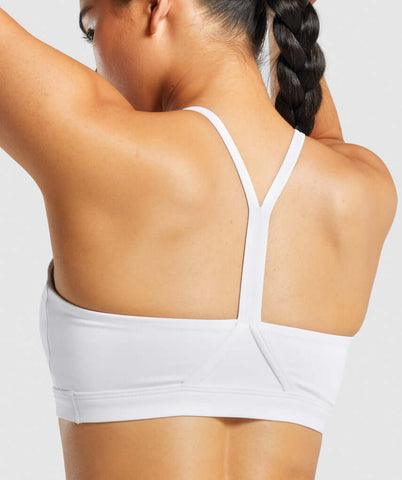 This white sports bra is great for small chests and short torsos, it is incredibly comfortable and has plenty of support for a small chest, if you are looking for something minimalistic, then you can't miss it, which makes your body look even more scrunched with thicker bands around the chest. The straps cross in the back, so they don't fall. The straps are also thinner than most sports bras, making it cute still under lots of tops, you can wear this bra with almost anything. But unlike most bras with slim straps, it does not get wrecked in the wash. the white color is really pretty and matched with anything.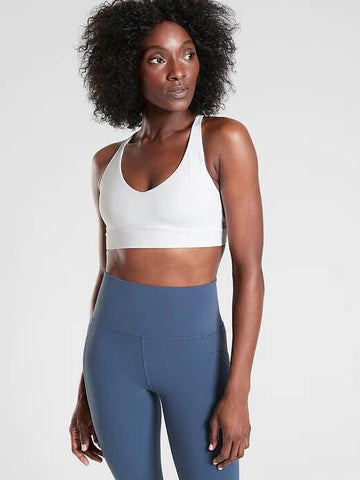 It is so comfortable and doesn't create the dreaded back fat with an overly tight band. The back is sexy and unique. Good coverage and support even though it's not tight. you can wear it every day, for workouts or under a cute formal outfit, the cut and straps work well for many styles of tops to not be seen, but even if you do see some of the strap patterns in the back, I think it works because it is beautifully designed!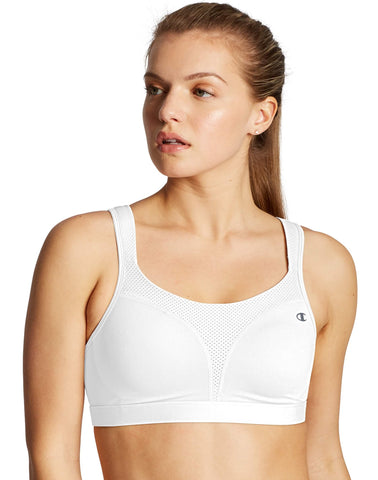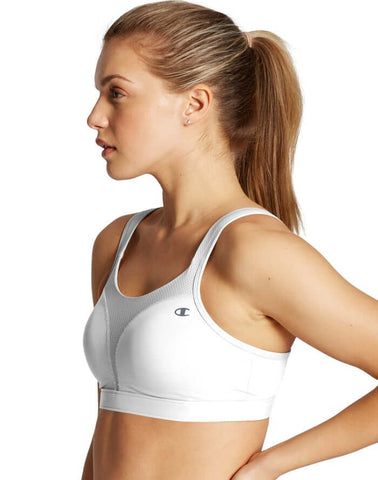 This bra is supportive enough for use during exercise and is very comfortable. This bra is great for medium to high-impact workouts! The durable material coupled with the thick shoulder straps and under the strap, combine to create a very secure and snug experience without losing any comfort whatsoever. Adjustable straps provide no annoying extra bits in the back other than a bra closure.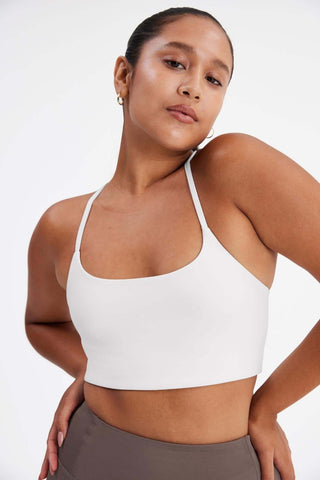 It's simple but nice looking, I fall in love with the buttery and thin material for hotter days. If you have sensitive skin and are concerned about the band squeezing your stomach, it rarely bothers you. The wide and flat bottom elastic is the best blend of comfort and support in any sports bra that I have. The float fabric is less supportive than compressive, but I love them for a "no bra" feel that still has some support for my everyday activities. There is not enough coverage in the chest for large size girls.
This is a super comfortable and surprisingly supportive bra. It's great for every day and low to medium impact exercising. My favorite plus of this bra for me is that it is comfortable for me to wear as a regular "everyday" bra if I want as well. You won't regret this purchase because Straps are crossable and hide under racerback tanks. A must-have for those who wear athleisure!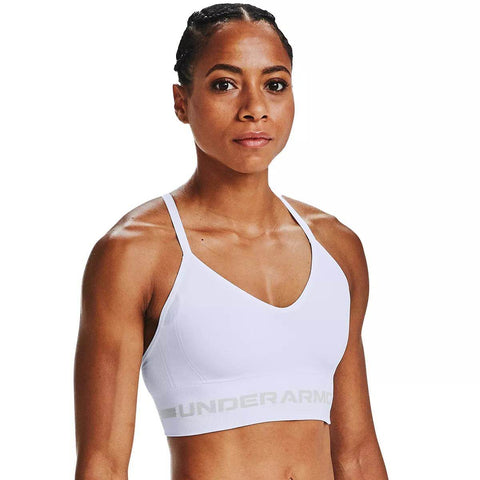 I am very impressed with this bra, it is soft, comfortable and love the strap pullover style in white. It doesn't angle up to high under the arms which is something I've found I don't find comfortable with other sports bras. For a large bust, it is small while providing a comfortable tightness, The band never rolls up and the little thin pads are great and don't bother you a bit. It is great for daily wear but not for high-intensity exercise.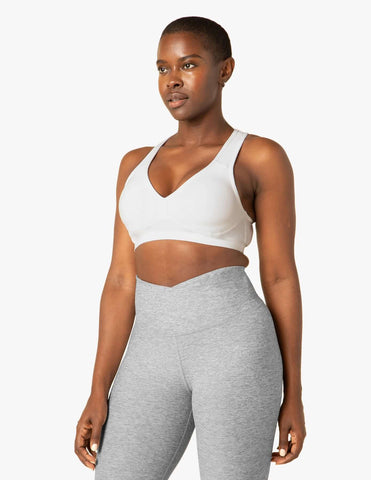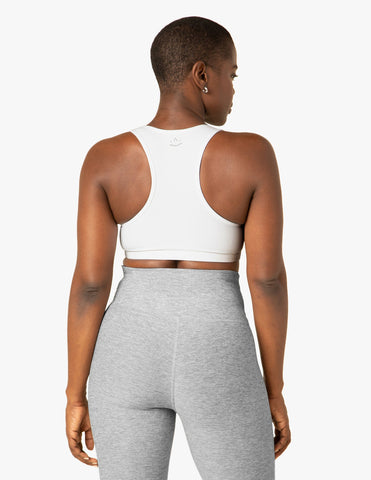 This is both the comfiest and flattering sports bra I've ever owned. It offers support and cleavage, which I have never found in any other brand of sports bras. Different from the above-mentioned sports bra, it looks cute with a V Neck design, you will be no worries about falling. The medium straps are too loose that will be comfortable for all-day wear. It is suggested to go for a smaller one for exercise.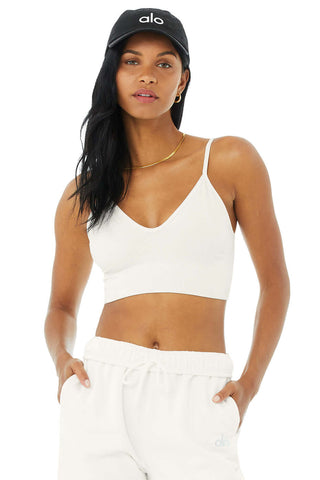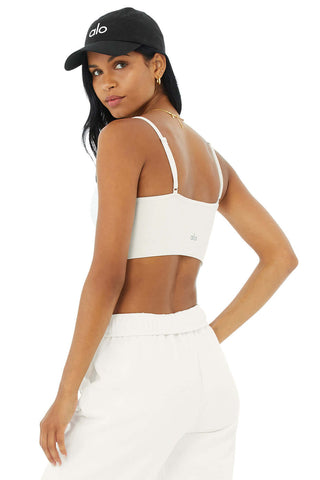 It is the cutest little bra for lazing around the house or a workout! It provides support and has a high level of compression, so it is great for a higher impact workout, I love that it is low enough in the back, The fabric snugs everything and holds things in it even looks pretty! 
Usually, Alo tends to be made for smaller chest women, if you are someone who prefers a looser/more comfortable fit, you should consider a size up.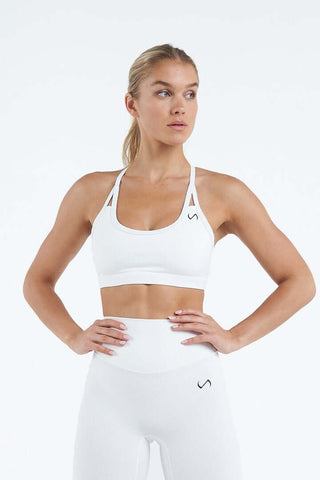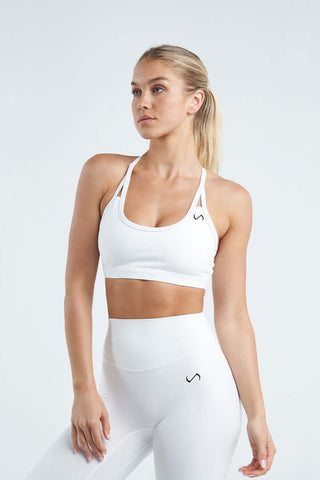 This white sports bra is not see-through, it is very soft and stays tight the whole workout. The sports bra gives exactly the right amount of support while the shorts offer an amazing look for all the right areas with neck and triangle cutout. The material feels like butter that doesn't mark your body with lines or annoying pressure, it is perfect with just the right amount of support without feeling restricting. The style matches with anything if you want to pair it and just overall looks good on.
---