8 Best Front-Zip Sports Bras Recommendation - A Buyer's Guide
When you're hot and sweaty, peeling off your sports bra can be an additional and painful exercise. The zipper front sports bra will help you with this awkward situation that provides you easy on-and-off access while still offering a high level of support when you are on a high-intensity workout.
This seems almost an impossible thing to ask if you are a DDD and exercise can be downright painful in ways that it is not intended to be.
Shefit sports bra can help you that provides a medium level of support and control and is adjustable for the constantly fluctuating boob size as you are nursing. The criss-cross back makes it not pull on your shoulders. Zips in the front will make it easy to take on and off.
This sports bra is intended for working out (more specifically for running, biking, and some lifting); however, the overall ergonomic design and style have quickly led it to become an everyday bra. The double cross back promotes good posture and the sleek, sculpted cups look smooth under a blouse and have kept their shape through a few washes now. Previously, front zip/ clasp styles have only been found in larger sizes, so it is great to see brands offering this style in full-size runs.
Born Primitive The ZIP FRONT SPORTS BRA
Besides the high support that it offers, this sports bra has many details making you feel comfortable, the fabric is tested by Southern VA to wicks moisture.
the hook and eye in the middle of this bra are used for stability and closure, the front zip makes it easy to take off after a sweaty workout, the shoulder straps are adjustable that saves you from neck pain, the only complaint is that there is a small piece of fabric on the inside that's a piece of the zipper that caused a little discomfort at first, but the more you wear the bra and wash it, it's softened up and doesn't bother me quite as much.
Champion MOTION CONTROL ZIP FRONT SPORTS BRA
It is a wonderful and smart sports bra, the front zip and the hook closure to get started are wonderful for those guys with limited mobility, it provides laminate and smooth panels for a reduced bounce and comfortable support. The cups of this bra are molded and there is no worry about shifting when washing. If you are looking for a front-closure bra with straps that do not slide off your shoulders, then it's your choice.
Knockout By Victoria's Secret Maximum Support Front-Close Sport Bra
An outer layer of fabric wraps around the inner bra to provide compression, bounce control, and maximum support. There is no spillage or excess bouncing, and the straps are adjustable. Great selection of colors and the zipper is improved over other front-zip VS Sports bras I've tried in the past. It is highly recommended for busty gals who need extra support (esp. when jogging).
DSG Women's Seamless Front Zip Sports Bra
This bra provided adequate support if you are a large size girl, there are cleverly hidden clasps beneath the zipper to hold everything in place, and they are easy to access are located in front. It's super comfortable and fits well under a razorback tank top. It is a compression sports bra without lift support. It is a medium impact sports bra for walking, hiking, and bike riding.
Lululemon Enlite Front-Zip Bra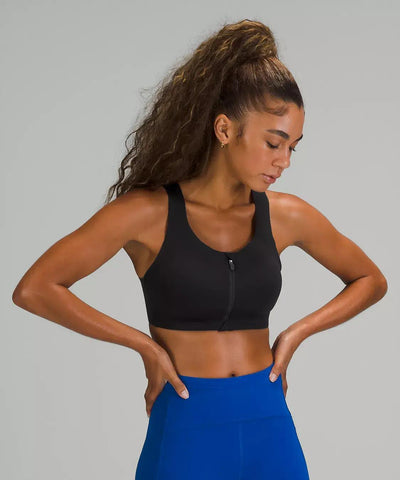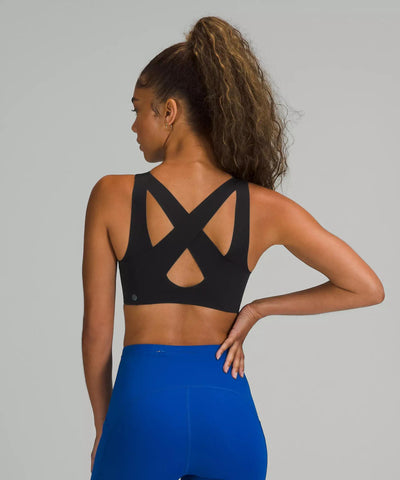 This bra provides incredible support with zero bounce! And the front zipper makes putting this bra on and taking it off so easy, and the back straps are soft with just enough stretch to accommodate movement with your workouts. Additionally, often time front zip bras have adjustable straps with clips. If you have a larger chest for a small frame and you can wear this bra for all workouts - from cardio to barre. Keeps everything comfortable and secure, and molds well without uni-boob. 
Athleta Advance Zip Front Bra B-DD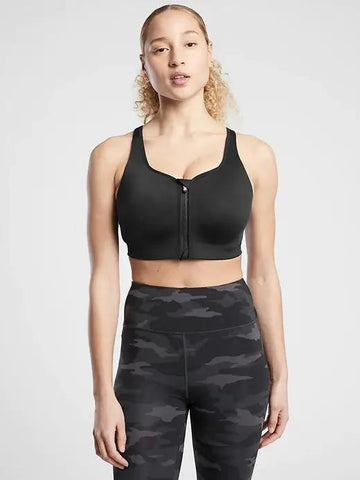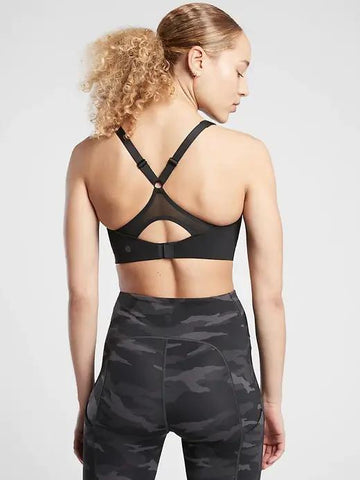 The zip front and adjustable hooks in the back are essential for a high-impact, durable, and long-lasting bra. The zip front was key for getting the bra on and off for someone with shoulder issues. It seems to be a good level of support for running and you will appreciate the front zip and adjuster in the back. it is slightly annoying the squeakiness of the rings that hold the straps together at the back, but that's minor compared to how it ravaged your chest during a long run. 
---