10 Brands Women's Plus-size Leggings Review 2022
Plus size women should choose inclusive leggings with elastic adjustment, and the quality material will feel much better without tightness or can provide the right amount of tightness for exercise, then its flexibility and support will help plus size women with various levels of exercise. More and more brands have put forward plus-size leggings and let out the following leggings.
Athleta Ultimate Stash Pocket 7/8 Tight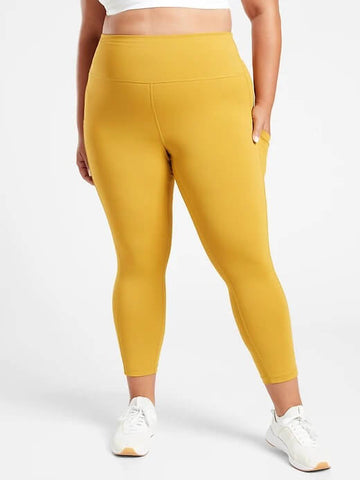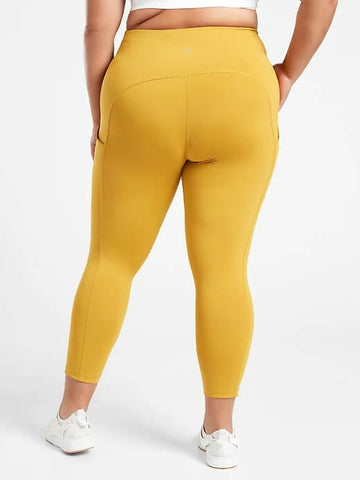 The material is made with recycled material and sleek with supportive compression, there are 2 stash pockets and 1 back waistband pocket, the pockets were smaller than expected while they still fit an iPhone 13 pro, you can dress it up with a long sweater for lunch or a casual dinner out, and it is medium to high impact for the gym, golf, hiking, horseback riding, biking.
Athleta Salutation Stash Pocket II 7/8 Tight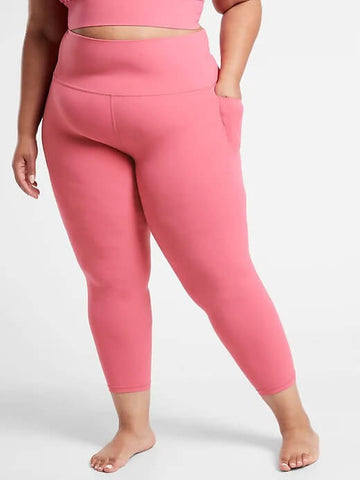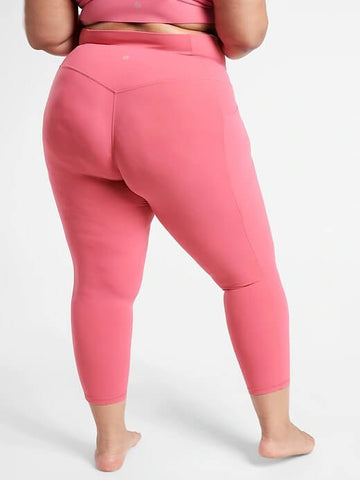 It is also from Athleta that is more expensive than the first one, the fabric it uses is buttery soft with support feels like a gentle hug, this item is made for yoga and studio practice with a side pocket, one negative comment is that the pocket gets stretched out at the top and flare out in a funny looking way, and the waistband rolls down and a little bit too flimsy during exercise, I have always adjusted it which makes it frustrating.
Lululemon Align™ Super-High-Rise Pant 28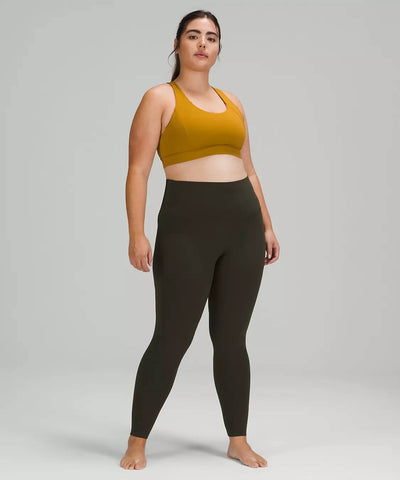 It is another yoga legging made by Lululemon, there are a lot of reviews from pregnant customers that it is a good legging for pregnant yoga. Because there is weight fluctuation during pregnancy, a pregnant woman needs a flexible and soft legging with room for ever-growing bumps, which won't make you "itchy". The super high waist is fantastic and doesn't roll down during yoga classes and they're comfy to wear all day.
 Old Navy Mid-Rise PowerPress Compression Leggings for Women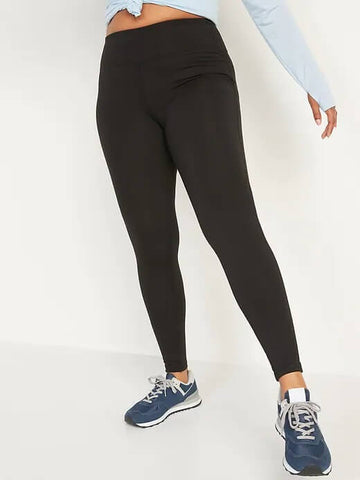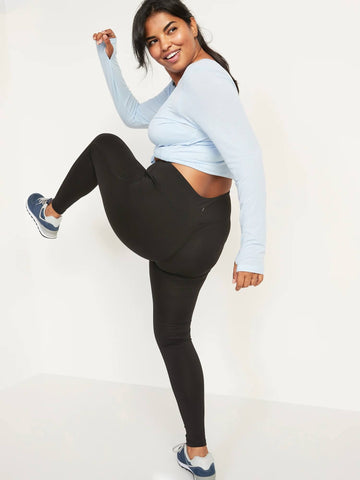 Old Navy is a little loose around the lower leg area and belongs to the cozy model, it uses the compression fabric which provides enough amount of flexibility and comfort for large size women, if your body is the athletic type, small bottom and square body with no waist, then it is your type because it is not a high waist legging, and the thickness is perfect for spring-fall.
Kohls Plus Size Tek Gear® Pocket High-Waisted 7/8 Leggings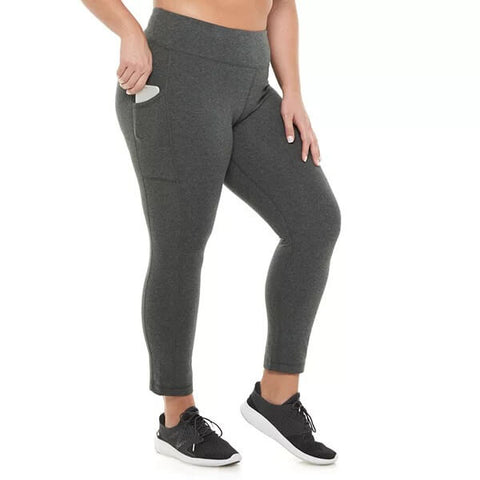 These are thinner with not as much spandex in them. It is not as soft as the above-mentioned legging, and it is not a deal-breaker considering the price, it has a deep pocket that is great for my phone and keys when I'm out walking, also the wristband is adjustable and comfortable, and it is not as tight at the ankle, it might be longer for short women and please contact with customer service before purchase.
Adidas HOLIDAY GRAPHIC TIGHTS (PLUS SIZE)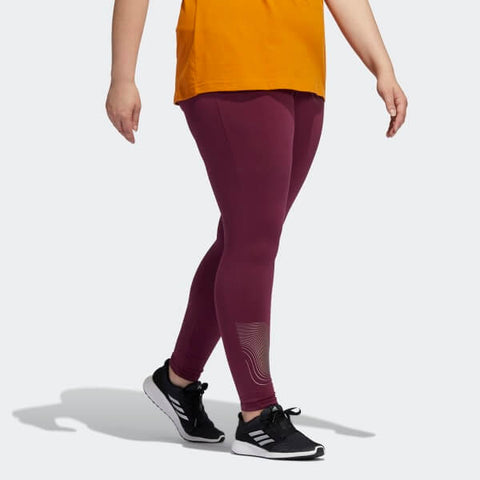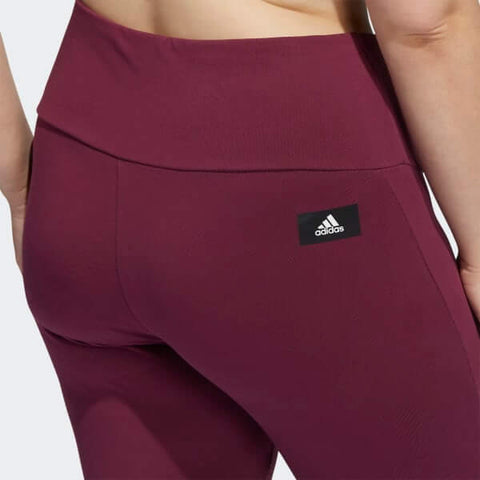 This product is made with Primegreen, a series of high-performance recycled materials, and it is a little tight to get on, if you prefer a loose one or flexible type, then it is not your right choice. It provides 5 sizes: standard, tall, petite, plus size, and maternity, plus size range from 1X to 4X. The little "holographic" stripe pattern is cool. It changes color in the light, from teal green to a maroon red.
if your calves are tiny these will fit fine but since they are the plus-size they should be a bit more stretchy while not the best.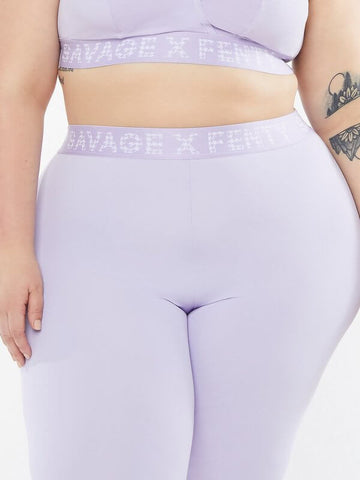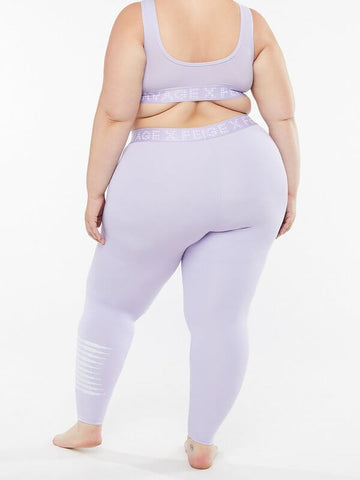 Featuring a flattering high-waist, Forever Savage Jersey Legging includes Ponte fabric and it is nice and breathable with no band snagging and fabric friction, it is a kind of cozy style that works well both for workout and leisurewear, the Gingham print logo is so cute with details, and graphic X logo on the bottom is velvet and shiny.
PrAna Becksa 7/8 Leggings - Women's Plus Sizes
PrAna Becksa 7/8 Leggings uses recycled polyester blend fabric, offering comfort and easy stretch; Wide waistband with hidden key pocket; handy side pockets stash your must-haves, you can wear it for yoga and loungewear, the UPF 50+ fabric is a bonus that will shield you from harmful UV rays. the texture is unique that will make your legs look longer, the one issue is it slips or sags down during exercise, maybe it depends on.
Athleta Salutation Stash Pocket II Printed 7/8 Tights - Women's Plus Sizes
the Salutation II is a little thinner material and doesn't hold you in as much as the original but they're still smoothing and buttery soft that is designed for yoga training. The side pockets are clutch. The right size and depth to hold all of the things: phone, cash, etc, and not worry about things falling out.
The waistband is not a thin layer of elastic but rather a thick, tummy control helper. The seams are well located to prevent chafing.
this legging isn't see-through and run a little large, which is a good thing. It still holds well and tight on your tummy, which makes these great for all body shapes. The ankle area is a little loose, it also has the glittered silicone Savage X logo graphic at waistband and X logo graphic at the leg, the purple ones are gorgeous!
---